Herds for growth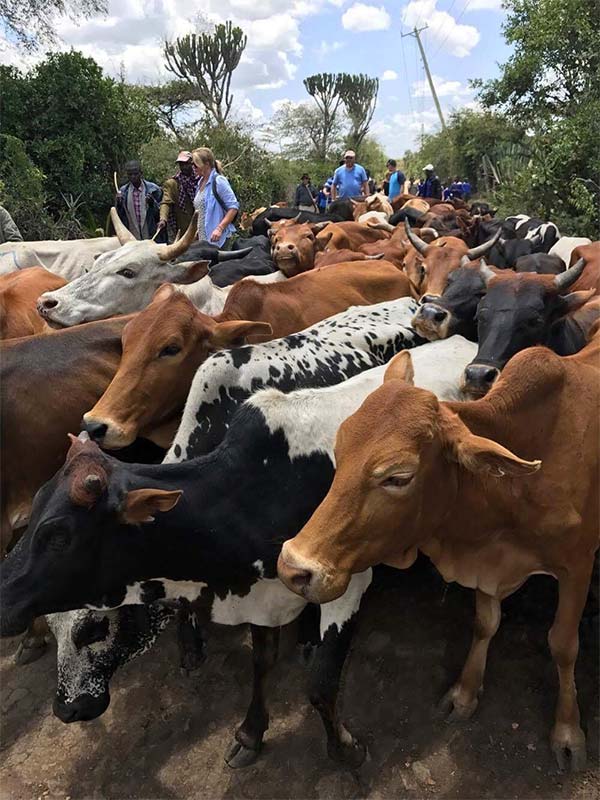 In 2010, Tarquin and Lippa Wood created the Enonkishu Conservancy, in the Mara, Kenya, to help protect one of Africa's increasingly fragile ecosystems.
The Conservancy is professionally managed and monitored by world aid agencies and it is currently a pilot project for Sustainable Rangeland Management for WWF and UNESCO-IHE.
At Peach, we helped buy a breeding herd of beef cattle for the Enonkishu community.  The goal was to raise over £50,000 to buy a prime herd to support Maasai lives and the conservancy – the profits will be owned by the community.  In September 2017, after months of fundraising, a Peachy team of people travelled out to Kenya to buy the cows and delivered the herd to Enonkishu. 
Current threats:
On the northern frontiers of the Maasai Mara expanding small scale agricultural activities are progressively spreading southwards posing a significant threat to the fragile ecosystem.

Landowners are not receiving any revenue from their land, forcing them to subdivide and sell it to small scale farmers.

Without the conservancy operating, the wildlife has no value and is at constant risk of poachers and wildlife habitats are rapidly being lost through the clearing of bush and forests for small scale agriculture