Before we launched our fundraising for The Burnt Chef Project, Head Chef James and Lindsey from the marketing team had the pleasure of catching up with Kris, the founder of the campaign. We found out a little more about how The Burnt Chef Project came about, how to wind down on days off and the importance of a good pen when you're working in hospo.
---
ABOUT THE BURNT CHEF PROJECT
Kris, can you tell us about your journey to launching The Burnt Chef Project?
In my teens I did have a bout of depression, feelings of not being able to face the day and it did have an effect on my schooling.
Moving into adulthood I started out in sales and marketing before working as front of house then for a food wholesaler, supplying fine dining.
This is where I fell in love with the industry. The people I met were so passionate and diverse.
Then again in my late 20's I suffered with my mental health. I had this disconnection with life. On the outside all was going well – work and personal were good. But I couldn't shake these negative thoughts, plaguing me, every day. I know I was overthinking, and I just honestly didn't know what to do to make myself stop. It wasn't until I, secretly, booked in for some Cognitive Therapy, that I realised that I wasn't the only one who has to deal being so 'in their head.' This is where I got the idea to raise awareness around mental health in the hospo industry. How good it was to not feel alone. I didn't want anyone else to suffer in silence, like I did.
It all started with what I thought was going to be a small event talking about Mental Health and my experiences – A LOT of people showed up. Then I started sharing the black and white images, this got a lot of attention too. We've just grown from there really.
Now I feel that struggling with mental health is actually a superpower, it makes you more aware, less tunnel-visioned.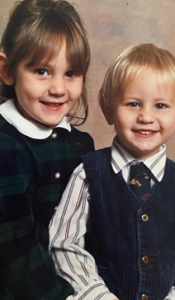 James, how did you come across The Burnt Chef Project?
I noticed the project on Instagram and loved that it was hospo focused. I could really identify with it. In my early teens I started having panic attacks, so for me I struggled with my mental health before getting into the industry. My team know all about my struggles, I want to be really open in the hope that it makes the team feel safe in talking about these things. We're all of a similar age and honestly, The Burnt Chef Project made me want to be more open with them.
I don't know if you know but Lindsey is my sister. She knows all this, we're really close and I've always been open with my family. But I'm now aware I need to be more open with team.
Kris, what are the highlights for Burnt Chef so far?
Wow – where to start!
In May 2020, we surveyed 1,300 people in the industry. We found that 84% had experienced mental health issues while in hospo. 61% had experienced 3 or more issues – down to stress, work-life balance.
I've just recently launched a Podcast, where I've been chatting to some amazing people. From Nathan Outlaw, Clare Smith, Adam Simmons to DJ BBQ.
And of course, I have to mention the partnerships with the likes of yourselves, Malmaison and Hotel Du Vin. It really is growing and growing.
Kris, what are Burnt Chef's plans for the future?
Soon we'll be partnering up with Drinks Trust, we'll be building more content with them. Our app is now live – The Burnt Chef Academy. We have everything from a sleep module, videos on motivation and family advice. Check it out.
Also, Skydive anyone?
(If this is your thing, click here)
TEAM WELFARE
James, what are the things you think other team members should look out for when looking out for team welfare? What are your top tips for getting people to talk?
For me it's being open in the first place, letting my team know that they aren't alone if they are suffering with their mental health.
I don't think a formal one-to-one is the best way to get people to chat. It's a beer at the end of the shift, a pre-shift catch ups with a coffee. It needs to be relaxed.
I know my team so well that if someone doesn't seem like themselves or they've needed more time off, I'll make sure I ask them if everything is okay.
THE COVID WORLD
How has the COVID world affected you? I imagine it's kind of your worst nightmare?
James – 100% – not feeling safe in the outside world, my anxiety went into overdrive. I just had to try and avoid talking about it when it all started – the fear of the unknown is the worst. It did get easier but it was a really tough time.
Kris – Being out of the house just felt so horrible. It was a real anxiety trigger. Being on furlough with anxiety – way, way too much time to think.
SWITCHING OFF
What are your top tips for trying to get a work-life balance in the hospitality world?
James  – I think depends on your role. For me it's making sure the team, myself included, have 2 days off and 3 evenings at home a week, working no more than 45 hours. Making sure that when the team request days off it's noted and happens. Sending people home early when you can. I like to think I've created a culture of this in the kitchen and Peach has allowed me to do that. I also moved back to working at The Thatch to be closer to home and I have 3 guys who have followed me basically from pub to pub. Again, Peach has given me the tools to do this.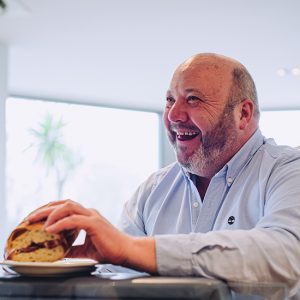 Lindsey – I just want to mention here how people move around Peach if something isn't working for them, rather than leave. People have moved from pub to central team, full-time to part time, at a pub to a roaming role, families balancing their days off for childcare. There are so many ways Peach tries to allow for that work-life balance. Plus, we are seen as assets, not numbers and our language reflects that. We say 'team' not 'staff or 'employees' and it's not all about job titles. Our 'area directors' for example are known as 'Poddies.'
James – Agreed – I've got to mention Frazer here, our Poddy at The Thatch. There was one Christmas eve where one of the Chefs was having a tough time and couldn't make it in. Frazer came into the kitchen and cooked steaks with me until close. I kept telling him to go home but he wouldn't! A true legend. This story really gives the essence of what Peach is about – we all look out for each other.
Kris – That legacy you can take with you throughout your career counts for a lot. Even though people love the industry, recruiting may be a struggle after COVID. It's a lot. Employers who provide team with unique benefits and cultures will now stand out.
How do you switch off at the end of the day or on your days off?
Kris – I've got to say, I don't practice what I preach, I need to eat better and exercise more. But I should make time to walk the dog, switch my phone off, see my family, drink water, and eat well. Mindfulness is something I need to do more of. A few models I use when I need to force myself to switch off are; CANDO, which stands for Community and Connection, Activity, (be) Nice, Discover, Observe, and the 5,4,3,2,1 method. Here you go through the senses to make sure you take in your surrounding rather than get too in your own head. If a team member is struggling send them into the walk-in fridge with this in their mind. It helps so much.
James – I'm better at this now and we really try not to call people on their days off. I take my dog Dylan for a walk, spend one-to-one time with my son, Charlie.
Lindsey – But remember those days when you really didn't know how to switch off?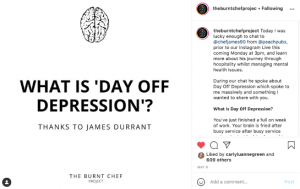 James – Oh yeah, before he was around I definitely suffered from what I used to call 'Day off depression.' I just didn't know what to do with myself after a full-on adrenaline-filled week. Charlie has given me a focus for that.
Lindsey – Did I see a sneaky note take there Kris?
Kris – James – I love that! If all good with you I've got to use it, it's going to resonate!
THE BIGGER PEACH
We're super excited to be supporting this great cause, what are you both hoping to gain from The Bigger Peach linking with The Burnt Chef Project?
James – For me, it's raising more awareness for mental health. To get people talking, so that it's not a taboo subject that isn't broached. We need to erase the stigma.
I love the end-of-service checklist, erase the stigma. The Burnt Chef Project is such a great example of how we can do this. Not only is their messaging engaging, but it's also a really cool brand, that myself and the team wear with pride. The project has really had the industry in mind when creating the products. We all appreciate a good sharpie!
Kris – What James said! When creating each product we of course had the industry in mind. We want the logo getting out there, it really gets the conversation started. We want to start opening doors and making sure we're listening to our teams.
Lindsey – Thanks both!
---
Join us between 17th May – 30th June, when we'll be donating 25p from every main ordered from our specials board to The Burnt Chef Project. Enjoy your dish, even more, knowing you're supporting a fantastic cause. Together we can burn away mental health stigma within hospitality once and for all.
I'm not sure I'll be signing up to the skydive any time soon but click below to see what James and I are planning to raise more funds for the project;
84km for The Burnt Chef Project
To find out more about The Burnt Chef Project;
To find out more about The Bigger Peach;
Our support for the burnt chef project