With May being Mental Health Awareness month and Mind launching Mental Health Awareness week 10th-16th May, it's time to focus on Bigger Peach Promise Number 1  – We are a Peachy place to work, learn and grow. This means striving to do better for our team and supporting their wellbeing.
With this in mind, from 17th May – 30th June, we'll be raising awareness and funds for The Burnt Chef Project. This campaign was setup with the sole intention of eradicating mental health stigma within hospitality. For 6 weeks, we'll be donating 25p from every main ordered from our specials board as well as encouraging our team to talk, really talk. Here's more about why.
Launched in May 2019, James Durrant, our Head Chef at The Thatch in Thame, has been a supporter of The Burnt Chef Project since day one.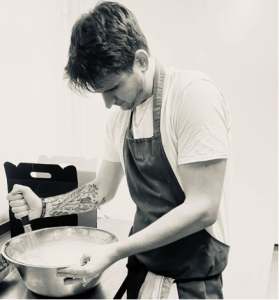 "I have anxiety, I have done since a child. It was the panic attacks that really affected me. I've always been quite good at talking about it, especially with family and close friends. It really helps me. I developed my own coping mechanisms, but anxiety is still something I deal with on an almost daily basis."
Despite some setbacks during his school years, James has carved quite the cheffing career since starting out as Front of House at The Angel, Long Crendon, aged 17. Joining Peach as a Junior Sous, he's now an Acorn award winner and has been a Head Chef with Peach for over 5 years. His wife also works for The James Figg down the road! Although talking through his problems helps James, unfortunately, not everyone feels they can talk about their mental health.
"84% of hospitality professionals have experienced mental health issues within their career. But 46% would not feel comfortable talking about their health concerns with their colleagues." The Burnt Chef Survey
"I was aware of The Burnt Chef Project pre-lockdown, but as you can imagine for an already anxious mind, the COVID world was one of my worst nightmares. Following their page and advice, their message just really resonated with me. I'm a Chef, with anxiety, yes, but I'm not the only one. I can't imagine what it must be like for those who don't have people they can confide in. This needs to change."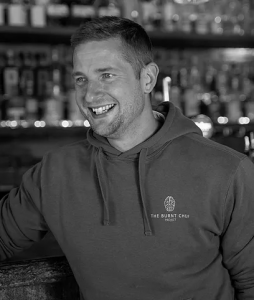 "I've been working closely within the hospitality industry for around 9 years and have seen first-hand the struggles of mental health issues within the trade with both clients and friends. Hospitality teams should be able to discuss the state of their mental health and gain support from their peers and employers. It's important that although mental health can't be seen it is regularly discussed and policies reviewed. This should be the new definition of 'badge of honour'." Kris Hall, Founder of The Burnt Chef Project
During the pandemic, millions have experienced a mental health problem, or seen a loved one struggle. We all need to appreciate the importance of asking 'how are you' more than once and really listening to the answer. Encouraging people to talk could result in them getting the help and support they need.
Join us between 17th May – 30th June, enjoy that main special even more, knowing you're supporting a fantastic cause. Together we can burn away mental health stigma within hospitality once and for all.
Find out more
The Burnt Chef Support Service TEXT: BURNTCHEF to 85258