Are you trying to make good choices in what you drink as well as what you eat these days? Since each individual year in a vineyard provides a detailed record of how the weather is changing, winemakers have a front-row seat at the climate emergency. The best don't sit back and simply watch. Our latest wine list focuses on delicious and interesting wines from producers who are doing what they can to protect and improve their little piece of the planet. Here are a few of them: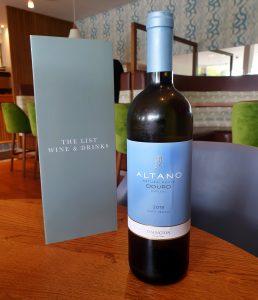 Altano Douro White – a blend of traditional Portuguese grape varieties grown on the steep hillsides of the Douro Valley, a UNESCO World Heritage Site. Made by the 4th and 5th generations of an Anglo-Portuguese family, leading port makers and shippers for 150 years, Symington Family Estates is a Certified B Corporation. That means social purpose is at the heart of all it does. Its vineyards, including the largest area of organic vineyards in the Douro, are farmed sustainably. It supports local schools, sponsors wine students and helps with the re-wilding of birds of prey into the valley. The wine itself smells of wild herbs and sings with exhilarating fresh, green flavours. It is distinctively different and highly delicious.
False Bay Crystalline Chardonnay and Whole Bunch Rosé – False Bay is the brainchild of Paul Boutinot, a zero-compromise Mancunian whose second career (after founding and building the eponymous UK wine supplier) is as a high quality sustainable winemaker in South Africa. Waterkloof, his pioneering estate overlooking False Bay to the east of Cape Town, uses biodynamic techniques, wormeries for compost and traditional Percheron horses to work the vineyards. Waterkloof is a World Wildlife Fund Champion for its work returning half the estate to its natural state, encouraging the return of the Cape's unique fynbos flora by pulling out alien species. The False Bay wines are Paul's least expensive, but the grapes are still hand-picked, wild-fermented with natural yeasts and generally hand-made to a degree that is almost ludicrous for wines at this price. It makes perfect sense only if you are determined, like Paul and his young winemaker Nadia Barnard, always to make "the good stuff". This is so well aligned with Peach's resolve to always serve the good stuff that it's no surprise these wines have a home on our list.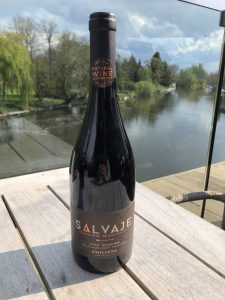 Salvaje Syrah Roussanne – the first natural wine I've been so carried away by that I had to list it. Made by Emiliana, Chile's largest organic and biodynamic winery, the first thing that strikes you about Salvaje (Spanish for "wild") is the incredibly intense violet colour that stains the glass as you pour. Impossible not to swirl it and sniff, deep ripe fruit aromas with a whiff of farmyard funkiness. Then yards of flavour, all dark bramble fruit but with a bright, fine thread of acidity from the small amount of Roussanne added to the Syrah, just as in the Northern Rhône they sometimes add a dash of Viognier. Made using wild yeasts and without added sulphites in a carbon-neutral winery, Salvaje is wowing our team in training and our guests at the table.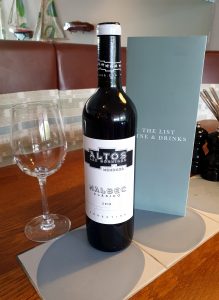 Altos Las Hormigas Malbec Clasico – Alberto Antonini is a world-famous Italian winemaker who dreamed of making wine in Argentina that would really express its terroir, that elusive but real influence of soil and site. He teamed up with the increasingly influential Chilean soil scientist, Pedro Parra in what they call the Terroir Project. After a lot of digging, Pedro identified limestone soils in the Valle del Uco that, together with its mountain climate, they believed would produce great Malbec. From the start they have farmed biodynamically, believing they must nurture life in the soil if they want the land to express its personality through the wine. Hand-picked, gently pressed, using wild yeasts and very few sulphites, their wines are now recognised as among the purest, most soulful expressions of Malbec in Argentina.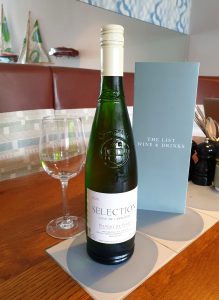 Cave de l'Ormarine Picpoul de Pinet – it can be easier for a single estate owner to take bold steps towards sustainability than it is for a co-operative made up of lots of different farmers. Yet the members of Cave de l'Ormarine, in the often traditional deep southwest of France, have together set a course towards full organic status. They have already replaced insecticides with pheromones that deter pests using sexual confusion. Trust the French to think "amour" holds the key. Their Picpoul is a zesty and refreshing summer white that transports me to the shaded banks of the Canal du Midi, even when I can't go there in person.
All these wines were chosen, first and foremost, because I loved them and thought our guests would enjoy them. But it's no coincidence that winemakers who try to make the best possible wine also care about their impact on the earth. Whatever the cynics say, "organic" and "biodynamic" aren't meaningless tags to justify higher prices. Often, there is no premium involved, just a guarantee that the men and women in the vineyard and the winery must have taken scrupulous care (rather than chemical interventions) to make good, characterful wine from grapes grown on land they are determined to keep in good heart.