At Peach, we believe in doing everything we can to Make Life Peachy for our team, guests, suppliers and planet, and towards the end of 2019, set ourselves 10 promises to make sure we're doing our bit.
Promise number five is about sustainable fish sourcing, and whilst not an easy promise to live by, one we're determined to keep to.
We love eating fresh fish, and love putting great fish dishes on our menu, which is challenging, considering we all must change to put less pressure on the environment. That's the time we're living in. But we need to be good at it, to help us reach our goal of being The Best Gastropub Company on the Planet.
What we know now is very different from what we knew when we started Peach nearly 20 years ago, and what we know now is driven by so many sources of information – many of which weren't even around in 2002.
It's challenging, but it's in our Peach DNA to do the right thing. And it's constantly changing – what fish should we serve on our menu this season? What choices will we be able to look back on and say we did the right thing? One thing is for sure – aquaculture (farming of fish) is going to play a greater part in the mix.  2016 was the first time in human history that we farmed more fish than we caught in the wild – a change that happened on the land many millennia ago.
A great challenge in the wild catch fishing industry is bycatch – the accidental catching of species other than that which is being targeted. The dumping of these fish, dead, back into the sea, prompted high profile campaigns to change the rules (by Hugh Fearnly Whittingstall for one). The EU and the fishing industry have made many improvements and dumping is now illegal; but the problem is not completely eradicated. The current system of fish quotas aims to prevent overfishing, but certainly a greater amount of farmed fish on the menu will place less pressure on the environment.
We know taking too much from the wild will not work forever and we have learnt that not all fish farms are equal – we have all read articles about poor practice damaging the environment and wild fish. So we looked to find third party certified farms.  Best Aquaculture Practice (BAP) certification drives sustainable production of fish, responsible feed for those fish, and care for employees in the fish industry (bapcertification.org).  Other important programs are; Aquaculture Stewardship Council (ASC) and GLOBAL GAP.  Working with Direct Seafoods https://www.directseafoods.co.uk/, we can be sure that our supplies are covered by one of these certifications.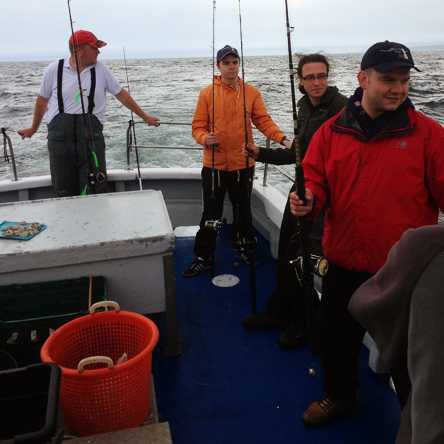 So what are we doing?
We are on a journey of continual improvement. We have made changes, and will continue to do so. Serving only fish from certified farms, and ensuring our menus have a range of wild and farmed fish, as well as shellfish, we ensure we are purchasing a range, rather than focusing on one or two species.
As part of our guidance, we use the Marine Conservation Society good fish guide and have joined the common language group at Seafish (seafish.org) where we will also get our chance to input and learn about improvements to fishing practice.
Never will we serve a fish that is or on a red or endangered list. And finally, we are developing our range of dishes with no animal products. So if you're looking for something delicious if you're avoiding animal protein all together, try one of our great vegetarian or vegan dishes, on one or more courses of your meal.
As tastes change, our team of Chefs will continue to strive to make menus that are both delicious, satisfying, and sustainable for the future. And we're always listening. If you want to join in the conversation, drop us We are always listening, so please join the conversation. Contact us online, and we'll make sure we read your feedback with the team.
For further reading, here are some of the sources of information we have found useful;
https://www.aquaculturealliance.org/
https://www.aquaculturealliance.org/blog/farmed-seafood-fact-vs-fiction/
And you can find out more about our Peach promises below.