Lots actually. We started by slathering care and attention on the lovely, eccentric pub we acquired right at the end of 2016. The Duke of Wellington, between Guildford and Leatherhead, is listed for its great age and its fabulous fancy brickwork, scattered across the pretty village of East Horsley by local landowner Lord Lovelace in the 19th century.
We took this feature as our cue and decorated the pub with a warm scheme of copper, brick and olive. Mouthwatering!
March saw the announcement of the Sunday Times 100 Best Companies to Work For awards. As first time entrants we were overwhelmed to reach not only the top 100 but the Top 50, coming in at No. 45.
In April we moved on to refurbishing all 20 bedrooms at our much-loved spot on the Bedford Riviera, The Embankment.
Using pale pink-grey and bone china blue, with luxurious velvet headboards, the result is a very relaxing set of rooms, above a pub that is as fun and lively as ever under the management of Gemma Mallett, who we welcomed back from maternity leave in May.
Peachfest was as fabulous as ever. This is our unforgettable annual party in July, where we close all the pubs for a night to gather the whole team in a big top and fancy dress. Speculation is already mounting about what the theme will be for 2018.
In September we updated The One Elm in Stratford-upon-Avon with lots of sociable booths for eating and drinking throughout the pub and a beautifully re-paved courtyard with more space for enjoying sunny days.
With lots of weekday offers on food and drink, our regulars seem very pleased that their local is now an even more comfortable & vibrant space to meet their friends.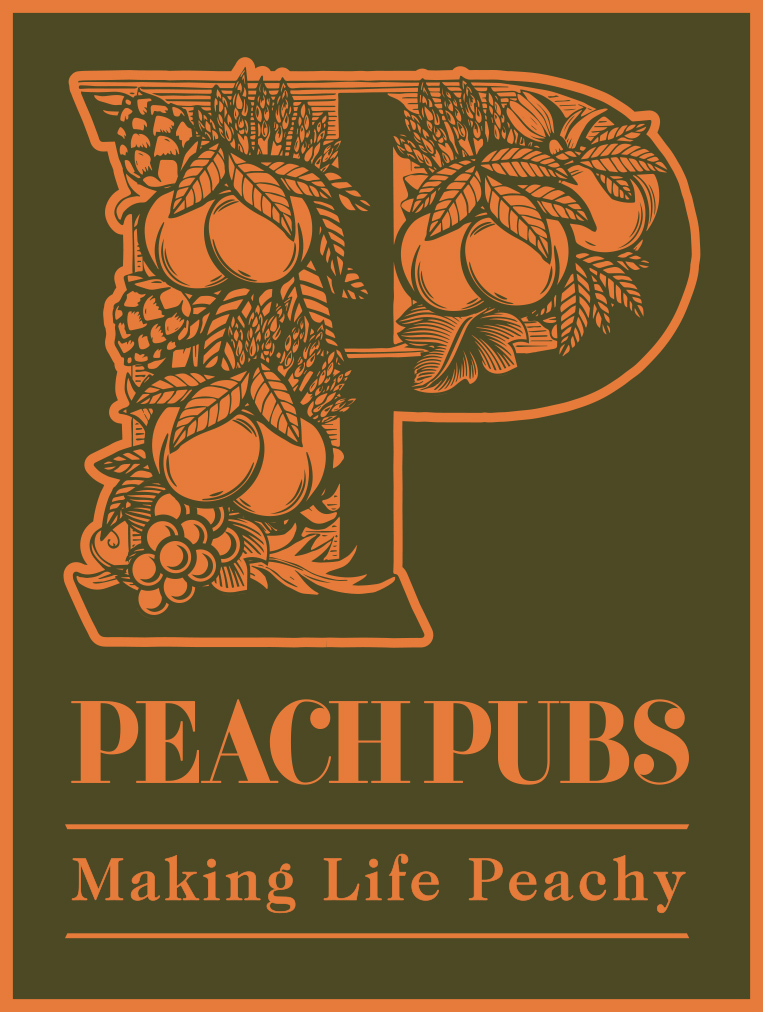 Also in September we celebrated Peach's 15th birthday by launching our brand. Up to now, we've hidden our light under a bushel. Being part of Peach has always been really important within our team, but we have been so keen for our pubs to be truly individual that we never wanted to be mistaken for a chain. Finally, so many people have told us they value the stamp of quality that comes with a Peach pub that we decided it was time to come out. We love our new logo – and the opportunity to tell people about what's happening in all their local Peach pubs. The feedback has been wonderful.
In October Hamish Stoddart led a trip to Kenya. Ten years ago we planted trees in what is now the Enonkishu Conservancy on the edge of the Maasai Mara to off-set our carbon emissions. Now half of those trees have been harvested for fencing and building materials and we pledged to plough the money they raised back into supporting the local community and its wildlife. Having raised a total of £60,000 we were able to buy a breeding herd of native cattle, which we weighed, tagged, dipped and herded to their new home on the slopes of Kileleoni. Within 5 years this continually improving herd should supply the Maasai landowners of Enonkishu with a secure income, enabling them to support the Conservancy rather than selling off their land for development. Our assorted herding team, from all corners of Peach along with some of our favourite suppliers and friends, had a life-changing time and are enjoying watching our herd thrive on WhatsApp. 
Finally, just as we were ready to dive into Christmas, we had the chance to create a fabulous new party and event space for The High Field in Edgbaston. Never ones to shirk a challenge, within 4 weeks we transformed a former architects' studio adjoining the pub into the perfect place to throw a party big or small.
Bookings flooded in even before it was finished and the first party took place within 3 hours of the builders leaving. There were some epic celebrations, including a wedding and a big New Year's Eve. Book early in 2018 to avoid disappointment.
So that was 2017. Onwards and upwards. Times are not easy, but proper English pubs are still the place so many of us choose to relax, meet our friends and have a good time. Whatever happens in 2018 we will keep on striving to make our pubs great places for real hospitality. See you at the bar.
Jo Eames