Back in 2019, when The Bigger Peach Team was born, we created a set of promises to follow, to set us on the path of being the most sustainable Gastro Pub Company on the Planet!
Some of the promises, we'd already been living by every day – feeding our guests well, is one of them.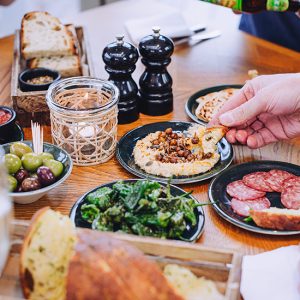 But what does feeding guests well mean? It means giving guests choice within our menu, offering indulgent treats to those who desire them, and healthier options for those who don't. It means giving dish information to our guests to help them choose, whether it be on allergens, calories or the journey from farm to plate. Feeding guests well includes families too; the dishes on our children's menu and drinks behind our bar. It's also how we develop and change our dishes each season to improve the amount good stuff in our food and reducing or removing things like salt or gluten, without sacrificing flavour.
So what do we mean by offering healthier options? People's definition of 'what is healthy' can often be so varied – some may say no carbs, others may say no sugar, some may say new potatoes over chips, others may say nothing deep-fried. It's a complicated topic and an area we've never really defined. For Peach it's a balance of all those things – having some mains carb-free, having an option of a salad, or a lighter-calorie starter or pud. The Sustainable Restaurant Association define it as 'no main course on a menu being more than 50% of your recommended daily intake of calories, fat, sugar or salt.' But does that allow for indulgent treats when sometimes that's what you really want when you visit the pub?
The truth is, right now, we just don't know the answer to the SRA definition, and our first step is in identifying the content of fat, sugar and salt in our dishes. We're hoping our current recipe building tool allows us to gather this information, which in turn will allow us to set some measurable goals. Watch this space.
We also believe guests should be able to have access to information, if they'd like it, on the ingredients in the dishes. At the end of 2021, we're aiming to be able to provide allergen information live to our guests on our websites. This will give better visibility, and in the future, also show more information such as salt and calorie content, a little like packaged goods do. Some guests might be interested, others may not, but our goal is to have the information available for those who seek it.
We've also updated our children's menu – and all Chefs are now trained to not add salt to our little ones chips and we don't have any nasties in the drinks in our fridges. Unlike alternative brands, Frobisher's contain juice and water, with nothing extra added, a little like Cawstons Press too!
We seek out suppliers who share our promise too. We work hard to serve products with no artificial flavourings, and soft drinks that aren't added tons of sugar.
And then there's all the dish development our team of chefs do, to make great tasting dishes, with hidden benefit too. We're using oils rather than butter when cooking some of our dishes, using black rice instead of white on our miso-glazed cod, we manage portion control carefully, so each dish is well balanced, use peels to give flavour and added vitamins into stocks, soups and curries. We're reviewing salt levels of our stocks, how we can use Tamari instead of soy, and looking at the dressings for our salads. Serving the good stuff means making so many of the ingredients on our plates, but where we do buy in, we are always looking for better alternatives. Our recent switch from Heinz Ketchup to Rubies in the Rubble, shows just that. Goodbye refined sugar, hello natural sweetness from wonky pears – all without compromising on the taste.
We can always do more! If you've got an idea how we can deepen our promise to feed guests well – we'd love to hear from you at hello@peachpubs.com.