"Doubtless God could have made a better berry, but doubtless God never did.' Dr. William Butler
We know we're not meant to have favourites, but there's something special about the arrival of Summer. Sunny days, longer evenings, alfresco dining and you'll also find the "berry best" English Strawberries on our special's boards.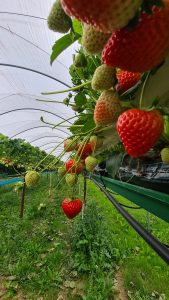 We're big on Strawberries and this year, our strawberries have been chosen from berry specialist growers Rob Pascall and his son Oli on Clock House Farm. Based in the south of Coxheath in Kent, the farm has been running for almost 120 years after it was set-up by Oli Pascall's great-grandfather in 1903.
When it comes to growing methods and trialling new varieties, quality is at the forefront to help deliver the best quality premium berries. Current strawberry varieties grown are Zara, Katrina, Malling Centenary. All soft fruit on the Clock House Farm is grown under plastic tunnels and in substrate media to extend the growing season and protect delicate fruit from the British weather.
Clock House Farm is continually looking at adopting sustainable farming systems and putting practices in place to minimise the impact on the environment. In the highly competitive fruit market, they believe it is important to produce the relevant crops as efficiently as possible without ever disregarding the value of the land under their care.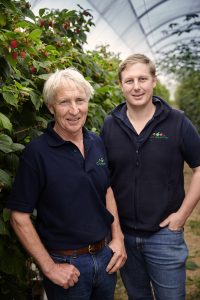 Meet The Grower
Oli Pascall
What is your favourite premium berry?
"Oh, this has to be the Victoria Sweet Blackberry, of which we are one of the largest suppliers in the UK. Honestly, the taste is just completely different to anything you will have tried before."
How do you spend your time when you're not on the farm?
"We're big fans of riding horses here, so you will often find us out riding when we're not on the farm and the dogs certainly keep us busy. Otherwise, I am a big squash player and I have been renovating our house for the last two years which has been a massive project."
What is your favourite way to eat fresh premium berries?
"I have got to be honest I find just snacking on them straight from the punnet is the best way of eating them. You get them in their full glory. There is nothing better than biting into a fresh, juicy berry!"
From a grower's perspective what sets premium berries above the rest?
"Premium berries are just completely different to the rest – their taste, appearance and flavour are just a million miles above the rest. When people try them, they really are blown away."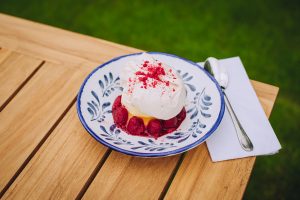 Join us soon to enjoy our chef teams glorious strawberry specials, and if you don't fancy a pud, add them to your Pimm's instead.