Anyone else think that a good breakfast sets you up for the day? Us too!
Inspired by Magic Breakfast, because no child should start the day hungry, join us for breakfast with the kids this August, their breakfast on us for the whole month!*
Magic Breakfast provides healthy school breakfasts to children at risk of hunger in disadvantaged areas of the UK. Every 34p donated to Magic Breakfast could give a child a nutritious breakfast and the chance to succeed at school. In support of the charity, there's also the chance to buy 10 Magic Breakfasts for just £3.40, raising much-needed funds for this great cause. Take a look at our menu in the pub to find out more.
Can't join us at the pub this August? Try one of Chef Operations Manager, Trevor Blake's, favourite family breakfast recipes at home!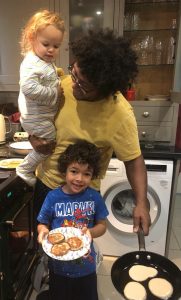 Banana Oaty Pancakes
Makes 10 small pancakes
Ingredients
1 banana, peeled and sliced
2 eggs
40g porridge oats
1⁄2tsp baking powder
1⁄2tbsp coconut oil or butter
Method
Blend together the banana, eggs, oats, and baking powder until perfectly smooth.
Melt the coconut oil or butter in a non-stick frying pan over a medium heat. To cook the pancakes add tablespoonfuls of the batter to the pan and cook for 1-2 minutes before flipping to cook the reverse side.
Repeat until all the batter is used.
Leave the pancakes to cool a little and top with yoghurt and your favourite fruit
Trev's tip: The pancakes keep for up to 2 days covered in the fridge and can be sliced into fingers.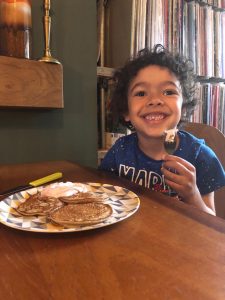 Chocolate Banana Porridge
Ingredients
125g rolled oats
750ml milk (dairy or non-dairy)
1 tbsp cocoa powder
1 Banana
Method
Place the oats, milk, and cocoa in a saucepan and cook gently over a low-medium heat for approximately 5 minutes until the oats have cooked and the milk has all been absorbed, stirring occasionally. Mash the banana in at the end with a fork until fully dissolved, spoon into bowls and allow to cool a little before serving.
*Only valid in pubs that serve breakfast;
Breakfast served at the weekend;