Spring is always an exciting time for us, marking the wonderful (yet all too brief) season for English Asparagus. We source the very best quality from our friends, J.W. Allen & Sons, at Portwood Asparagus.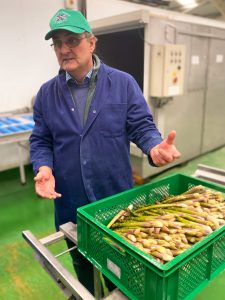 We recently had the pleasure of visiting the farm and learning about the life of Portwood Asparagus from Andy Allen, the man who has been at the helm of the family business for 35 years. We were given a fully immersive, behind the scenes look at what goes into farming this now famous, and highly sought after asparagus, and seeing the passion and dedication from Andy and his team, felt super Peachy and completely aligned with our values;
• Making Life Peachy For Our Teams' And Communities
• Always Serve The Good Stuff
• We Love Our Planet
Growing asparagus is a painstaking task, with hard work and patience needed to grow and produce every mouthful. An asparagus seed takes a year to grow into a crown, which is the root that is planted on Portwood Farm. It then takes a further four years for the crop to get into full production, with only a small cutting taken in the third year. When it's finally time to harvest, the freshly cut spears are washed, cooled and refrigerated within half an hour, and delivered to our pubs within 36 hours of leaving the ground. That's what we call serving the good stuff!
The Allen family are proud to have farmed in Norfolk for more than 250 years. Asparagus has always been grown in their kitchen garden at Portwood Farm in Great Ellingham, and the first commercial beds were planted when Andy returned from Agricultural College to join the family business. Having travelled extensively to learn as much about the crop as possible from growers throughout the world, they began cultivating their asparagus using the best traditional and sustainable methods. They also utilise the latest technologies to ensure its produce is of the very highest quality, flavour & freshness.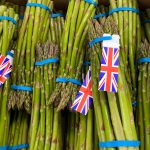 Portwood Asparagus are accredited by the Red Tractor Assurance Scheme. It was great to see renewable energy practices in place, including solar electricity generation, heat recovery, and waste recycling. Their passion for a sustainable future, and their commitment to the long term vitality of the land and the people that work it, makes for a perfectly Peachy partnership.
There's still a few weeks left to enjoy the quintessential taste of English asparagus. Now is the time, so look out for it on our specials boards over the next few weeks. Enjoy it simply with classic Hollandaise and a soft poached egg or add some delicious Severn & Wye Smoked Salmon.
Book in before the season ends.