15 MAY – 21 MAY 2022
Join us in supporting Joe and Sian as they cycle from the pub to Paris. All to raise funds to start an Intergenerational Weekly Music Group for those with Dementia. Here's their story…
In the recent years, people close to us have been battling with or have developed Dementia. We've seen the strain they have gone through, and the trauma.
Now is the time to make a difference and help those who are going through the same thing. This is not just about helping those with dementia, it's about bringing the whole community together, no matter who they are. To do this we are setting up an Intergenerational Music Group in East Horsley, which we believe will make a big difference as there is nothing like this locally.
To raise funds for this we will be cycling, a great hobby of ours, over 500 miles to Paris and back from The Duke of Wellington between 15th – 21st May 2022. This will be one of the biggest challenges we've taken on together.
As we are yet to come up with a name for the music group, we will be raising funds through The Loop, a charity that helps other charities, based in East Horsley.
All support is so very much appreciated. To find out more, or donate, please click here.
Love Sian & Joe x
SIAN & JOE'S TOUR DE PÊCHE DIARY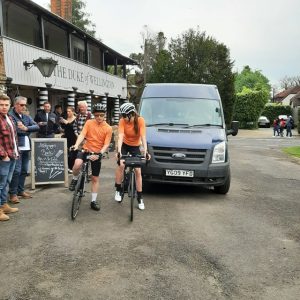 Day 1 – Sunday – Horsley > Folkestone 89 miles (totally chucked it down with rain, was so bad, but then ended In pure sunshine down on the coast! Leaving the pub was amazing. So many of our lovely guests arrived to give us a good send off!

Day 2 – Monday – Calais > Lens 66 miles Was super windy and hard work, head wind the whole way which makes it harder to cycle.
Day 3 – Tuesday – Lens > Chambry 80 miles The sun was shining, at 29 degrees, it was so hot the tarmac was melting. The beautiful winding roads are surreal (but so hilly, and we all think Surrey is bad!!!) box hill has nothing on these ones!

Day 4 – Wednesday – Cycling from Chambry to Paris. We plan to pop a cork at the Eiffel Tower. Half way point. This is another 85 miles.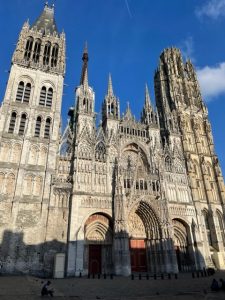 So far, we haven't got lost, we've used a Garmin device. Our support drivers are doing so well (they are navigating in a 13 seater mini bus with so much luggage, equipment and food (because we are ravenous) constantly!
Our French is terrible and Beth keeps speaking Spanish (she recently went)!
So far so good, no injuries apart from I iced my leg with a bag of peas after two days. Our tan lines are ridiculous! But we are having such a wonderful experience. Through the tough moments we are saying to our selves why we are doing this. To make a difference in our community.
Day 5 – Thursday
Paris to Rouen ~ 80 miles
After a really long difficult day around Paris we where glad to be on our journey back. (it was chaos). The roads this day where scary, like the m40 in rush hour with big lorries & a few dodgy paths of gravel (very surprised neither of us got a puncture, or whiplash!) we finally arrived at the centre of Rouen where this beautiful cathedral sits! It was more beautiful than we imagined.
Day 7 – Saturday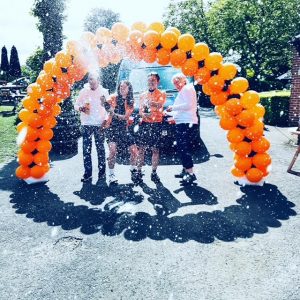 Rouen – Dieppe 50 miles
A very early start this day as our ferry from Dieppe to Newhaven was leaving at 11am! We left at around 6:30 am and made our way down to the ferry! A few challenging hills to tackle but oh boy we were glad to be heading back to the pub. We had a good power nap on the ferry before checking in to our hotel in Newhaven. More of a relaxing day as we had already done the miles early morning

Day 6 – Friday
Newhaven – Horsley! 50 miles. Home time. A reasonably warm and sunny day back on UK Soil. The last slog. We made it.
What a welcome back we received. All our favourite people to celebrate with us in one place. We were both overwhelmed with the arrival back.
Well done Joe and Sian – we're so proud of you!
All support is so very much appreciated. To donate, please click here.