Our Vision
To create best cattle management on all Mara conservancies, delivering increased, fair and diversified income to conservancy members in the Mara and demonstrating a sustainable model of co-existence between livestock and wildlife.
History
In 2017, it became clear the herds of cattle on Enonkishu which normally totalled 700-800 were not producing significant income and were not always sticking to the grassland management plan. A small team including Hamish Stoddart and Tarquin Wood came up with a plan to offer to buy the community a herd managed to professional standards as long as they agreed to move or sell any other cattle on the land as the shared ownership herd grew. Charitable donation were raised by Hamish in England, and the first Herd of 170 was purchased in September – Dec 2017.
Goals for 2020, 2021
To grow Herds for Growth in Enonkishu and neighbouring conservancies to 300 breeding cows and 200 calves maturing
To manage all cattle on Enonkishu Conservancy with member satisfaction
To be on track for 30 sales of males in 2021
To be on track to deliver $50k income to community for 2024 or 100 sales
To inspire 2 other conservancies to adopt our best practice grassland and cattle management
Progress against goals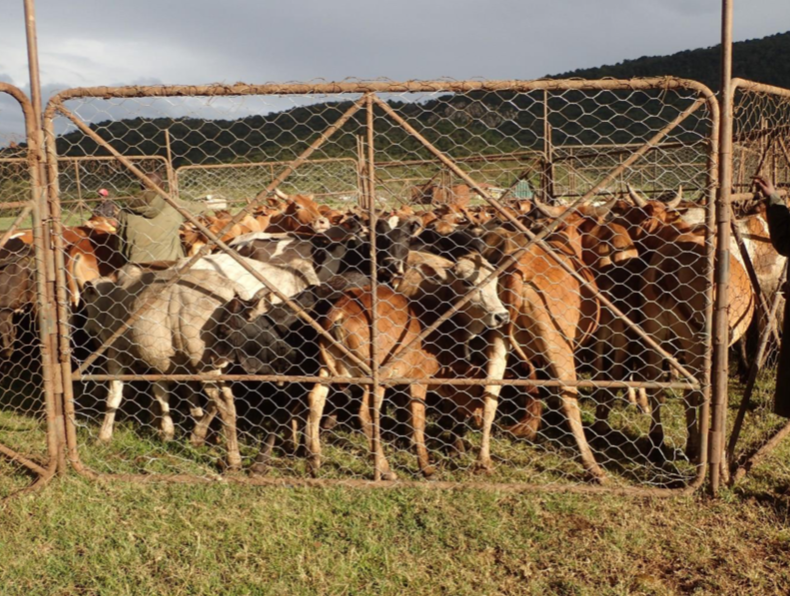 A Boran bull, whose services were donated by Mara Beef Ltd, was introduced to the Herds for Growth on 30 January 2018. This resulted in the first male calf sired by a Boran being born in the conservancy on 3 November 2018 to E144. One hundred thirty six Boran cross calves have been born to the herd, with 86 weaned.
Thirty-four of our original herd have now birthed two surviving calves! Throughout the third quarter of 2020, 11 calves were born (8 steers and 3 heifers). Fifteen calves were branded and weaned in December 2020. Thanks to donations that came in from Q3 2020, mesh for the boma gates was purchased and the maintenance workers have been busy installing it to ensure continued safety from predators.
In addition, in November, 46 Boran-cross heifers were vaccinated against East Coast Fever, a horrendous illness without a reliable treatment. The vaccination is good for a lifetime and although comparatively expensive, will ensure healthy breeding cows for our 2nd generation Boran-cross calves.
In early October, a donkey named "Christmas" joined our Herds for Growth. Donkeys have been used as predator deterrents elsewhere and Naretoi had an orphan donkey who needed some company. It was a mutually beneficial transaction and Christmas has blended right in with the herd. As he just reached one year old, we are considering purchasing a friend and cart for him so that they will be able to move the boma gates without hiring a tractor.
The majority of Kenya has experienced a dry season during the fourth quarter, which has meant an influx of cattle owned by individuals moving back into Enonkishu, where the rain has continued to sustain adequate grass. At the end of December 2020, 52% of cattle in the conservancy belonged to individual members with 48% included in Herds for Growth.
Story of the quarter (Q4 2020)
Since the inception of Herds for Growth, the goal has been to reach 300 cattle by the end of 2020. However, as the end of December approached, the herders became worried with no cows giving birth throughout the month. We came to realize that nine months ago was March… an admittedly miserable time for the cows in Enonkishu as we experienced extraordinary rains, in fact the highest rainfall in the history of our local records. As the cows struggled with walking through mud and sleeping in the bomas during some crazy storms, it is no wonder that none managed to conceive during that month. So, the number sat at 299 from 1 December to Christmas. However, on the morning of 26 December, news quickly came that a male calf was born to E107 allowing the herd to achieve its goal.
Hamish and Jo Stoddart (founders of the Herds for Growth program) came to visit the conservancy for Christmas and participated in our Christmas nyama choma while getting reacquainted with their cow friends from past visits. Head herder, Leshinka, was in his element as he found cows purchased during the initial Herds for Growth herder trip in 2017. It was truly a proud moment as the fat healthy cows meandered through and Leshinka shared stories about orphaned calves and ones that were curious or special in their own way. It has been quite a journey to get the herd to this point and we look forward to a prosperous new year and hopefully a first sale of Boran-cross steers when the timing is right in 2021.
Plans for Q1, 2021
There are currently five cows struggling with raising calves to success for a variety of reasons. One of the Boran bulls inherited from Mara Beef has also given up on mating. This development demands immediate action, as his old man grumpiness is preventing other bulls from mating and could cause another slump in births in nine months time. The plan is to sell the five cows along with the old bull to purchase a Boran bull from a different farm to stir up the genetics for future offspring. Excitingly, this is necessary as our weaned heifers are ready to have 2nd generation calves.
We are aiming for 400 cows by next Christmas, 50 births and 50 new heifers from the market
To do this,  we need a little bit of support now,  so we don't have to sell cows to pay the herders or for medicine. In addition, we are planning a September trip to the market.  7 days in Kenya on the eco trip of a lifetime.
Herds in the Wild needs your support,  Enonkishu needs your support.
£1 Treatment of 2 cows for Trysanomiasis, disease transmitted through tsetse fly
£5 for a weekly dip for 40 cows, to prevent parasitic diseases
£10 for predator deterrent lights to keep herd safe at night
£20 to vaccinate 2 cows against East Coast Fever
£50 to repair 3 boma gates that build our predator proof bomas
£75 to pay a herder for a month
£100 to pay all costs for one of our calves to be cared for to get to motherhood and you get to name and be Sponsor for that calf
£200 to  maintain bomas for 12 months
£250 to buy a new Herd cow or buy a leg for £75
£2,000 buys a first-class Boran Bull to help grow the herd and improve genetics
£25,000 is the annual cost of caring for and herding The whole Herd
If you fancy supporting, donate through our charity partner Wild Philanthropy, as 100% of funds go to the Herds for Growth Program and are tax efficient. I'd love to thank you if you do, so let me know. 
Here are some links to my favourite 5 videos, perfectly demonstrating why it's important to support Herds for Growth  
The one to watch if nothing else, Wimboweh, 2020, In The Mara the Mighty Mara by the Wild team   
Leap of Faith, 2018, How we started it was a "Leap Of Faith – A Rewilding Story"  by Chris Taylor Films  
Moses a landowner tells the story a landowner of Enonkishu  explains why Herds for Growth will work 
Herds and Rewilding the Conservancy by one of the Homeowners who made a difference 
Corona Impact on Enonkishu, May 2020, by the Wild Team