The Bigger Peach Promise number 7 is "We support our community and charities."
Our pubs are at the centre of their communities and we actively encourage our team to be involved in the community, we offer our spaces and engage in community projects, clubs and charities. Emma at The Thatch in Thame is a stellar example of this, running the London Marathon in a couple of weeks in support of Macmillan Cancer Support. Here's her story;
"On 3rd October 2021, I will be running the London Marathon in aid of Macmillan Cancer Support. Many think I am crazy and ask why on earth I'd put myself through this but there's only one simple answer; the sense of achievement is incredible.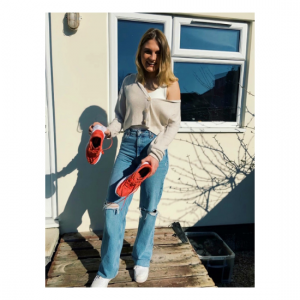 Unfortunately, cancer hit my family in 2019. My mum was diagnosed with Breast Cancer. It is a hard time for anyone to go through, or to see a loved one to go through, therefore running for such a charity means a lot to me. Another member of the family will be needing the support and care from Macmillan too. Macmillan are one of the most amazing charities when it comes to cancer – they are there for support for both the individual and the family. Sadly, cancer now occurs in 1 in 2 of us. It's a terrifying figure but with your support, donations and my bonkers idea to endure the pain, we will help support those of us who suffer from this idiot of an illness.
When people ask, "How's training going?" I have many a story to tell…with a few trips to A&E, an injury and losing faith, I have finally completed all the long runs necessary and ready to smash it on the day. It's safe to say I am nervous but also extremely excited. Having watched the London Marathon from a young age and always wanting to be that person crossing that finish line, I will be finally completing that – a feeling I will never forget.
I thank all of you, in advance for your support and donations. Without you, people wouldn't get the care and help they need when going through cancer."
Good luck Emma, awesome work!
If you'd like to sponsor this amazing cause, you can do so here.