If you're thinking this isn't the year to go cold turkey in January, why not raise your spirits instead by trying something different from your usual dry white?
All good wines have stories. Each one is a place and a time, sunshine and rain, an idea and a dream, bottled. Let me tell you three of the stories on our list.
Albariño, Sentidiño, Rias Baixas, Spain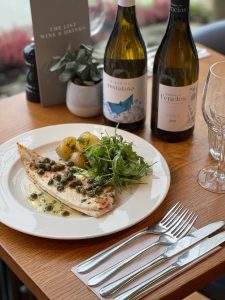 The wild Atlantic coast of North West Spain is the only part of the country where it's as customary to carry an umbrella as it is in Manchester. It's a grey-green landscape of pilgrim routes and crashing seas, of boiled octopus, hake and peppers from Padrón. Albariño is the region's most famous wine and, as so often happens, its ocean-fresh flavours match perfectly with all three of these local specialities.
Made at a brother-and-sister-owned winery, Bodegas Gallegos, five miles from the ocean, Sentiñido Albariño blends wines from three sub-zones within the Rias Baixas region. The blending results in a white that is irrepressibly lively, with a whiff of salt breeze balanced by citrus and even a hint of tropical fruit. While we can't make it to the seaside, a bottle of this with our January weekend special of Dover Sole & Brown Caper Butter may just be the next best thing.
After The Clouds Chenin Blanc, Western Cape, South Africa
Three years (and a lifetime) ago we visited our supplier Boutinot's winemakers near Franschhoek, that charming food & wine mecca on the Cape. Our mission, and we did choose to accept it, was to select from amongst their new wines sitting in steel tank and barrel at the winery to try and blend a white and a red specifically to be enjoyed by our guests at Peach pubs. I was accompanied by three hard-core connoisseurs from the Peach team and we spent a very tough day slurping and spitting, choosing, blending and debating, taking it all rather more seriously than our hosts had expected. They learned our commitment to "always serve the good stuff" was no lip service. If we hadn't been convinced our guests would find our blends delicious, we would have come home empty-handed. Luckily, we didn't have to, and After The Clouds (from our family motto, After The Clouds Light, a name intended to cheer everyone after three years of Brexit strife. Little did we know how much more we'd soon be needing to spot sunshine through the clouds!) was born. We ordered 8,000 bottles in the first vintage, 12,000 in 2020, which we got through despite lock-downs, and soon enough it was time to go again, with an even bigger order.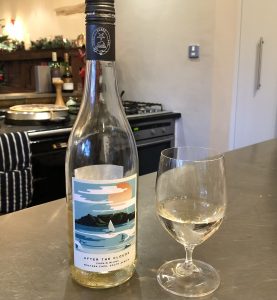 Over Christmas, I tasted the first bottle of the 2021 vintage. Sadly, I have not been able to go back to the Cape since 2019, so the latest set of samples came to me via FedEx in August, shaken not stirred. This time I chose a slightly different blend from our original. I was excited by the quality, even of the unfinished, air-freighted sample. But it's an anxious moment, having given the nod for thousands of bottles to be filled, when you first taste the final product. After the first sip, I have to admit I did a little jig round the kitchen. Fresh, citrusy, with a lick of honey on the nose and the finish, it is incredibly well-balanced and satisfying. I think it's the best yet – and am very happy to be able to support the South African wine ecosystem, which has been devastated by a huge loss of tourism income, red-listing and four government bans on alcohol sales in the country over the last two years. Many wine experts hold that South African wine, especially Chenin Blanc and Shiraz represent the best quality reasonably-priced wine in the world. After The Clouds Chenin Blanc 2021 is Exhibit A. Decide for yourselves.
Encruzado, Quinta dos Carvalhais, Dão, Portugal
Finally, if you want to know the best-kept secret on the list, order a bottle of this. Encruzado is the name of the grape, a new one on me until the day I arrived at the winery four years ago. Surrounded by woodlands of pine and chestnut (Word of the Day: "Carvalhais" is Portuguese for Chestnut tree, which also features on the label), it was tough to see that some of the vines had recently been blackened by the forest fires that are just one of the challenges wine-growers face from global warming. It was November, and the viticulturist said he would have to wait for Spring to see whether new growth would emerge on the forty year-old charred stumps.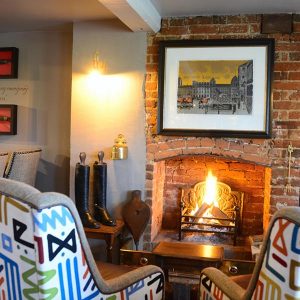 Quinta dos Carvalhais are leading producers in the Dão region of Portugal, to the south of the Douro. They make smart, meticulous reds and whites through sustainable agriculture combined with the best modern technology. Their Encruzado is a mineral, intense, lightly-oaked white that reminds those who like these things of fine Chardonnay from the northern end of Burgundy, without being a slavish imitation. It's one of my favourite choices with roast chicken, or even that Dover sole I mentioned earlier, and I hear it's one of the things the team likes to use its team discount to enjoy. Always a good sign.
So you see, while January may seem inescapably long and dark, it is still possible to travel all over the world with nothing but a glass and a good bottle. And what's even better, you can do it without ever leaving the fireside at your local.
Cheers.