Every six months we have the *tough job* of looking at the plethora of new drinks in the market and hand-picking a range especially for you (you're welcome!).
We only serve what we want to drink ourselves, introducing you to something you may not have tried before, and hopefully won't have in your home bar. As we continue to support all our fabulous producers we hope you'll join us in supporting them too.
Sit back, relax and enjoy something great from our new list
Here's a bit more about our new favourites
Our Sustainable Wines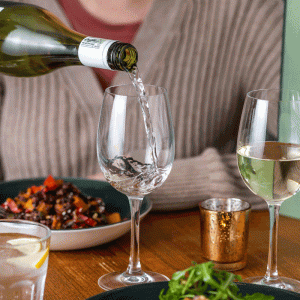 Look out for the butterflies
As part of our plan to aim for Net Zero, Jo began to ask questions about the sustainability of the wines on our list. Winemakers are already thinking hard about their impact on climate change. Many of the wines we sell, from small family estates and large producers alike, have quite outstanding organic, biodynamic and other sustainability credentials.
Alongside sheer deliciousness, Jo is actively looking to list wines that meet these criteria. For the first time, the Summer list will highlight (🦋) all those wines that we can confidently identify as sustainable to one degree or another.
Find out more here
Introducing Caleño Dark & Spicy
A rich blend of pineapple, coconut, ginger, black cardamom, vanilla, kola nut & lime
Perfect for rum lovers having a night off the hard stuff. Also great for mocktails! Enjoy as a our signature serve – like a non-alcoholic Cuba Libre!
Caleño Libre – Pineapple | Coconut | Coke | Lime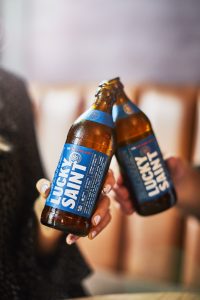 Lucky Saint
"In a league of its own"
There's a new free-from lager in town!
Introducing Lucky Saint, an alcohol-free, unfiltered Bavarian lager. Refreshing and crisp, with a citrus hop finish, this beer tastes like the real thing. Perfect for sunny days in the pub garden with friends.
Plus, fun fact, at only 0.5% ABV, Lucky Saint contains the same amount of alcohol as a ripe banana… we know what we'd rather have. Pop by and enjoy a bottle today.
Cocktails
Introducing some new favourites, perfect for Spring/Summer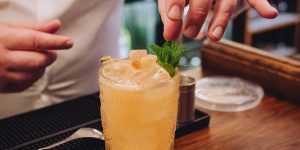 Solero – Redleg Spiced | Passoa | Vanilla | Pineapple | Lemon
Lemon Drop – Ciroc | Cointreau | Lemon
Italian Gentleman – Bulleit | Campari | Lemon 
Rhubarb & Apple Spritz – Chase Rhubarb & Bramley Apple | Prosecco | Lime
Thanks to those who have been enjoying our Banoffee Martini! With thanks to our friends at Discarded Rum, together we've raised over £700 for the Drinks Trust in the last 6 months. Be sure to try one when you next stop by!