Autumn is a wonderful time to embrace all nature has to offer; spiced apples, roast pumpkins, hedgerow berries, and rich game. Settle in with a warming red wine or good pint of ale after a long walk, and escape life's bustle. We only serve the very best and responsibly-sourced ingredients – the kind of food we love to eat.
We're always looking to bring you something new to try, seasonal dishes full of flavour, whilst keeping those we know you enjoy. We've brought back a couple of the favourites you loved from last year, and added a couple of new delights too. The very best gooey camembert from Somerset, free-range chicken wings coated in hoisin, pan-fried hake with a Malaysian curry, blackberry trifle, a pear tart tatin and cheery bakewell – the list goes on!
To help you choose, here's a list of our must trys!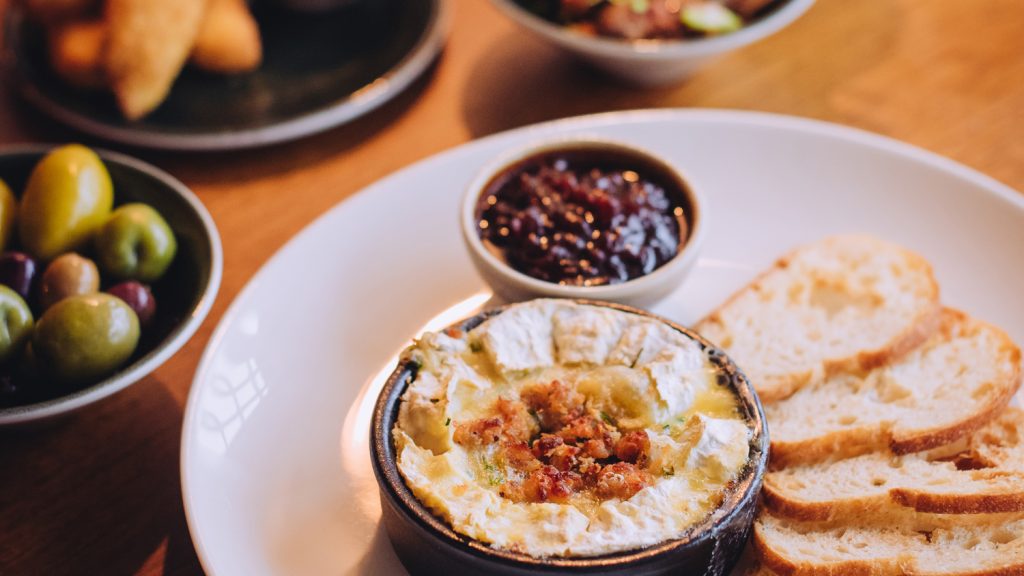 Somerset Camembert
Back by popular demand!
 An absolute favourite, and the winner of our blind tasting. Packed full of flavour, and tasting even better as it's British! We're serving it baked with a garlic and herb crumb, onion marmalade and croûtes.
Free-range Chicken, Blythburgh Pork & Wild Venison
We only ever serve free-range, ethically reared meat. Aubrey Allen is far more used to serving Michelin starred restaurants than pubs and have been voted Britain's Favourite Butcher, four years in a row. In 2013, Aubrey received the Royal Warrant, which shows just how high quality their produce is.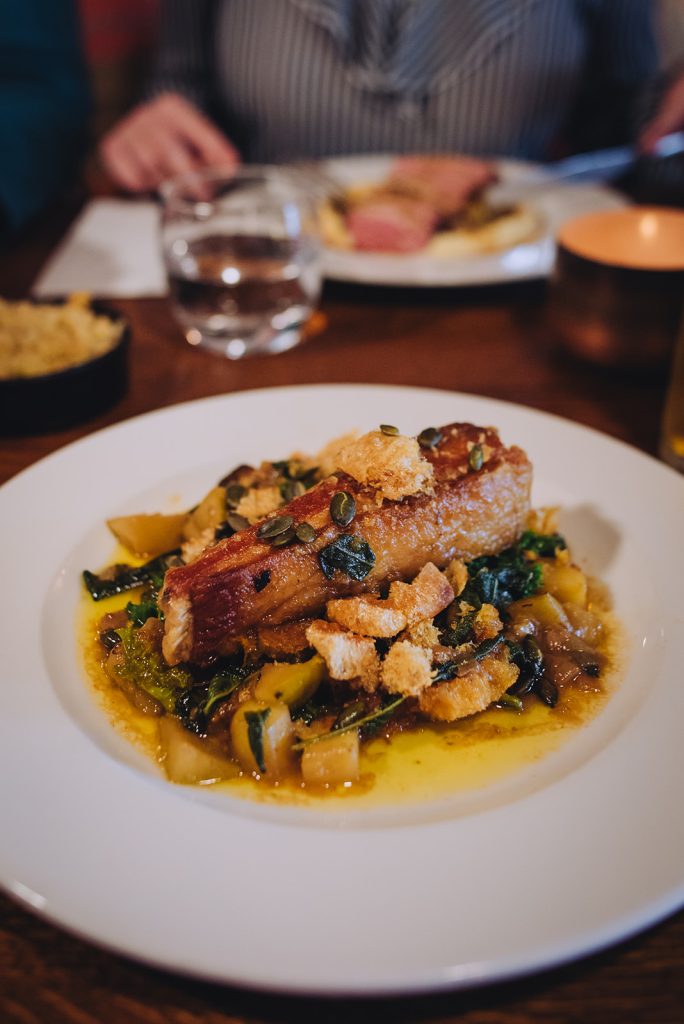 Small Plates
Great for sharing with a drink, or two, and this Autumn you can tuck into free-range chicken wings served with hoisin and sesame seeds, topped with spring onion and chilli. You'll also find free-range ham hock terrine, with piccalilli, spread it on your toasted sourdough, and enjoy!
For main, you'll see the return of Jimmy Butler's pork belly, pumpkin and apple – a real taste of the season. A favourite from last year that we couldn't wait to bring back.
We've refreshed the garnish to pumpkin and apple for true Autumnal flavour. Give it a try and let us know what you think, we know you're going to love it as much as we do.
For a real hearty treat, our venison pie is an absolute must. Our fish pie has been such a hit, and we're sure this one is going to be as popular. Scottish venison is sourced from both Forestry Commission land and private estates in the heart of the Scottish highlands – including Royal Balmoral. Fully traceable and as organic as wild deer can be. To learn more about Aubrey Allen, read our blog here.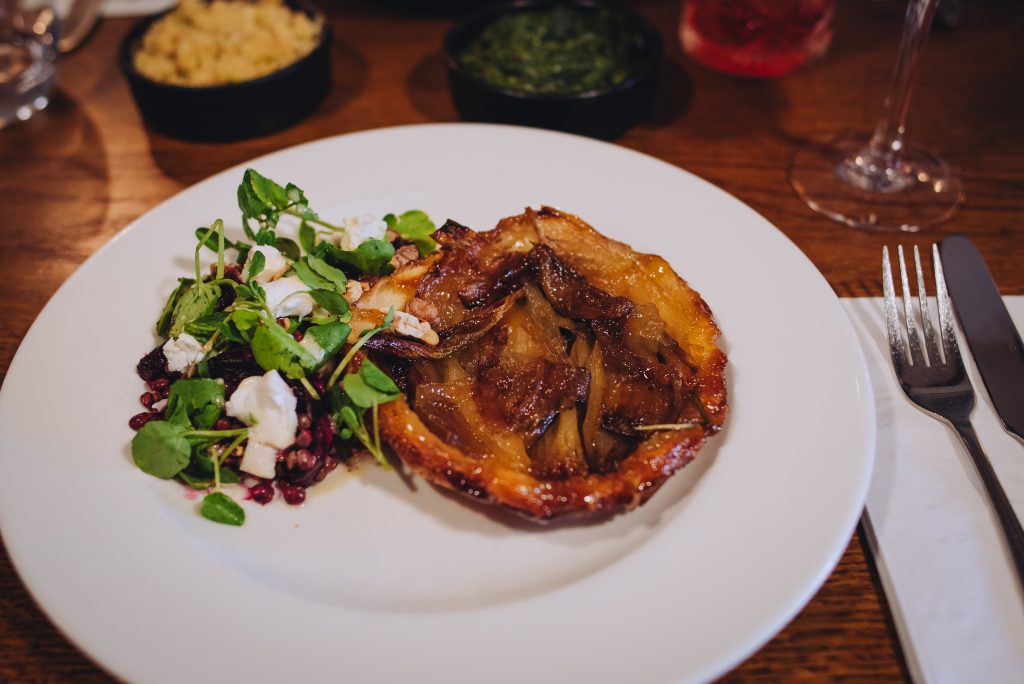 Delicious Vegetarian Dishes
For those going meat-free, there's plenty for you too. Enjoy celeriac & apple soup or spiced aubergine with fennel salad, pomegranates and coconut yoghurt to start, both flavoursome and vegan too.
For main, you can'd go wrong with wild mushroom & leek risotto, served with crispy onions or our second newcomer – shallot tarte tatin with goats cheese, roasted beetroot and walnuts. Both super tasty, and perfect for Autumn, whether you're veggie or not!
We've always got room for puds
From blackberries, to pears and new cheeses – make sure you squeeze in a pud when you next visit! There's nothing better than a classic; tuck into our blackberry trifle, made extra delicious by cooking the sweet berries with mulled wine dish with a Peach Pubs twist. We've added mulled spices and flaked almonds to make it the perfect pud for autumn. We've also brought back our well-loved tarte tatin, now layered with soft pears, topped with ice cream – super tasty, and vegan too!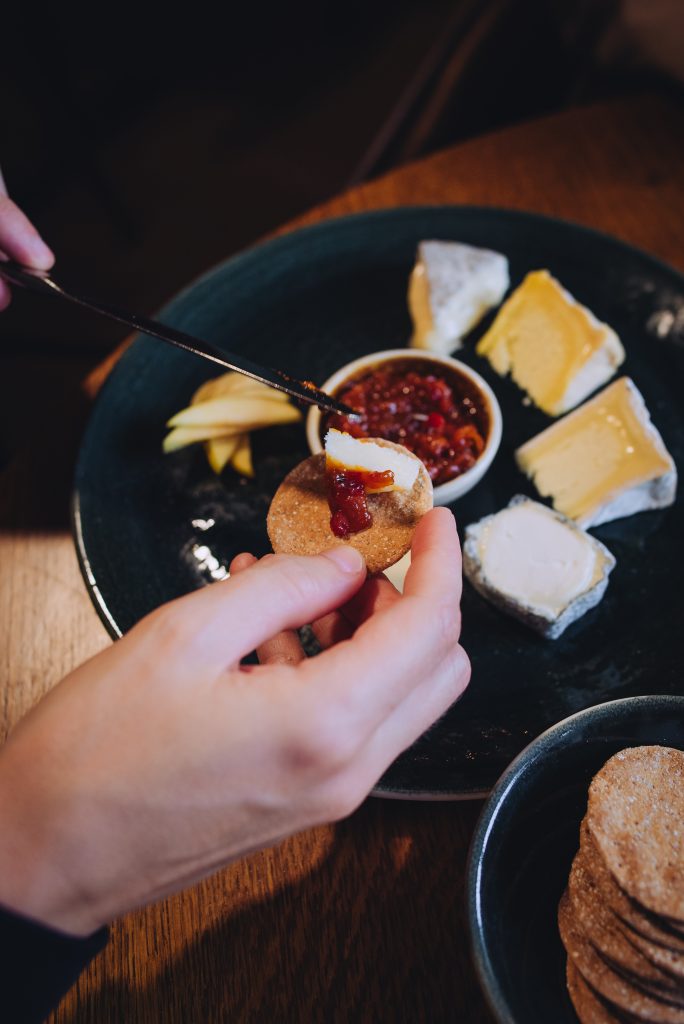 British Cheese
And not forgetting, you'll only find British cheese on our cheese board. Delilah from Worcestershire is truly decadent, Burt's Blue from Cheshire is very approachable, Oxfordshire Highmoor is a semi-soft organic cheese from Ian Fleming's Merrimoles Farm (yes that Ian Fleming!), try Ashlynn Goats' or Rachael Reserva – an award-winning Alpine style cheese.
Make sure you visit us soon. Take a drive out to your local Peach Pub and find your new favourite. We can't wait to see you.