As proud members of The Sustainable Restaurant Association, we continue to work closely together, looking at ways we can become more sustainable, and help our guests be sustainable too.
They recently shared their top tips for the food, drink and hospitality industry to strive towards in 2021. Having read through the list, it was with great pride to see how many of our steps aligned with the changes we're already making.
The SRA say: Saving the planet starts with people
Numerous studies suggest that employees are more loyal and engaged with employers that help them positively contribute to issues they care about. Having ambassadors help shape the future.
Peach say: Training our team has always been a high priority for Peach, from being better leaders, to delivering great service and how to be sustainable. We are currently recruiting 'sustainability-warriers' to help us on our mission to be more sustainable, and have several Bigger Peach training sessions planned throughout the year.
The SRA say: Make every menu change a restorative one
Menus are the best tool to restore climate, nature and diners, as food accounts for more than a quarter of all greenhouse gases. Each menu change should consider proportion of meat dishes and plant-based alternatives. In a 2020 survey, 75% of diners told the SRA they'd be likely to order a dish in which veg replaced meat. It's lighter on the pocket and the planet.
Peach say: Each season we review our dish data, understanding how our guests needs and wants and eating habits change. We also keep a close eye on the wider market, and how we can offer choice across our range of guests. In light of the moving trends, our menu has evolved over the last 12 months, with our Dirty Vegan Burger being a staple, alongside Superfood Salad and Vegan Curry. You'll also find a new slot on our Spring 2021 menu of "Daily Vegetarian Special", and we will continue to do more.
The SRA say: Switch on to green energy
The proportion of renewable energy in the grid is growing year on year, now accounting for more than 30% of all electricity, coupled with a price drop, there's even more reason to move.
Peach say: We couldn't agree more! Peach have committed to moving to renewable energy across the entire group, with our new contracts coming into force in 2021.
The SRA say: Go loco for local
Switch one imported item to a UK supplier, rather than flying ingredients in from Spain, Israel and Italy. Knocking air miles out of the supply chain and creating jobs on their doorstep, is not only sustainable but makes you feel great too!
Peach say: We've always sourced great British suppliers, and are keen to reduce air miles and support local farmers. From wild game in Yorkshire to Wye Valley English asparagus, native scallops and British sparkling too. For Spring 2021 restart, we will also be moving to a British-only cheeseboard, to celebrate the great cheesemakers of the UK and moving from Iberico Chorizo to a Dorset Salami by great producer Capreolus.
The SRA say: Carbon footprint – net zero
Setting a net zero target is no longer a pipe dream. Major hospitality businesses are all on the road to net zero emissions. You can take the first steps by completing a carbon foot-printing assessment.
Peach say: It's our dream to be the Best Gastropub Company on the Planet, and also the most sustainable. Towards the end of 2020, with The SRA, we completed a carbon footprint audit, and will continue to look into how we can become carbon neutral, it's our mission to work out how in 2021.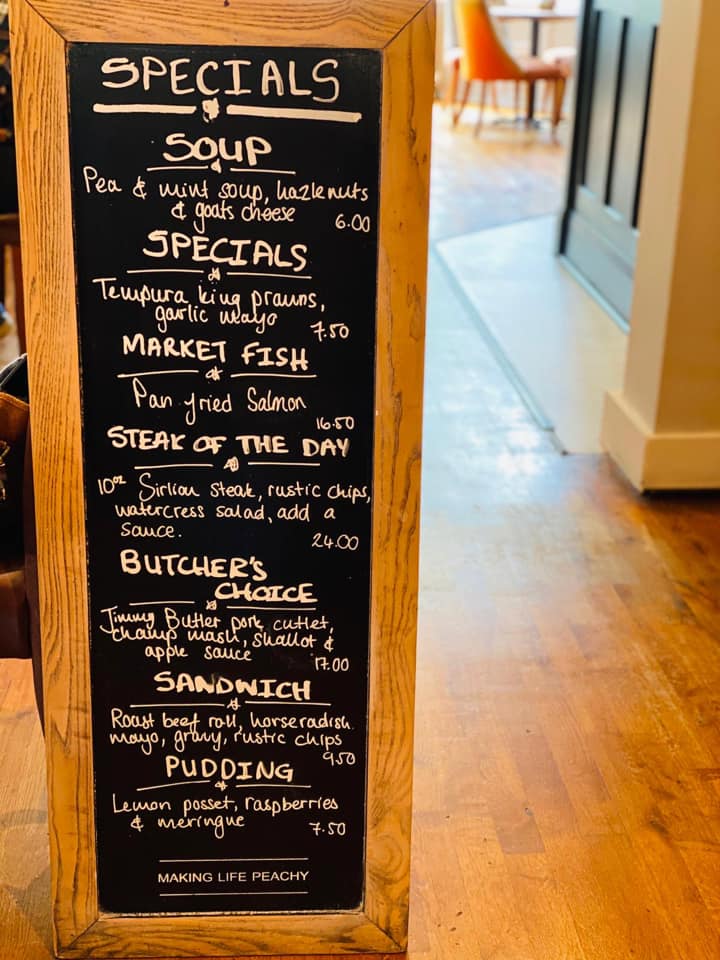 The SRA say: Feed people not bins
It sounds obvious, but don't throw food away that can be eaten. It's our most valuable commodity and the industry is still throwing away close to 1m tonnes a year. Install a food waste bin, measure how much is going in, assess where it's coming from and set reduction targets. Donate or sell surplus through partners such as Olio, or Too Good To Go.
Peach say: We've always be focused on reducing food waste, and teach our chefs on how to use any by-products to add flavours to stocks and such. Having daily-changing specials, and giving our teams the autonomy to create delicious dishes from ingredients in the kitchen mean we waste very little in truth. However we can do more, and will continue to look into ways of measuring waste and reducing further.
The SRA say: Make your most sustainable dish your most popular one
Two thirds of diners told the SRA in 2020 that they would order a restaurant's most sustainable dish over their usual favourite, if they knew what it was. Here's an opportunity to capitalise on increased interest in provenance and climate-friendly food. Choose the most sustainable dish on your menu, highlight it, tell its story on your social channels and the menu and track sales.
Peach say: This is a great idea. At Peach, we believe our menu should give balance to guests eating habits, and only serve the good stuff. That's about serving British beef, serving only free-range, and making sure all dishes are as sustainable as they can be. Climate-friendly means serving seasonally too, and that's why you'll only find asparagus on our menu, when it's in season – we won't be flying any over from Peru. We're proud of our seasonal specials and our sustainability ethics – we will continue to look into ways of how we highlight these dishes and tell their story. We're also reviewing ways of how we can use our app to inform guests of their choices, and look to offer ways to offset their carbon footprint.
The SRA say: Share your sustainability success
Too many restaurants hide their lights under a bushel. Sure, diners don't want a side order of lecture with their meal, but they'd love to know that by choosing to dine with you they are eating their way to a climate solution. Hero suppliers on the menu, proclaim the power of veg and celebrate food made from 'waste'.
Peach say: Marketing all the good stuff we do, is a constant in Peach, and we're always looking at ways we can tell our stories. You'll find provenance on our suppliers on the back of our menus, a link on all the pub websites, and content in our emails. In 2020 we highlighted vegetarian and vegan dishes using symbols, and you'll find example specials boards on our websites. We continue to celebrate how we're being sustainable, and will look into how we can bring our stories more to life with video and animation over the course of 2021.
The SRA say: Assess where you're at
Without assessing where your business is at, it's impossible to set targets, so review current practices with and make an action plan.
Peach say: The Bigger Peach Team was born in 2019, and meet monthly (mostly virtually in recent times), to discuss and review where the business is, and what actions they can do to progress. Setting a target of making one changes a month, ensures there is constant progression, and a review of the action plan makes sure things get done. From adapting the children's menu to state chips are salt-free, to looking at electric car park charge points and submitting blogs to highlight our promises – we're not standing still.
The SRA say: Join the SRA
By joining the SRA, a foodservice business is becoming part of a movement – a unique network of like-minded individuals and organisations all focused on the same goals which brings major opportunities for knowledge sharing and a powerful sense of joint enterprise. You can find out more here.
Peach say: Done! And we're also proud to be working with 9 suppliers who are too members – together we can make a difference!
You can read the full blog article here.