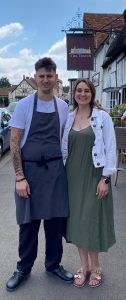 Ever wondered what a day in whites would entail? I caught up with Acorn award-winning and Peach Ultimate Head Chef, James Durrant, to find out what he gets up to in a day's work.
9am – Once I've caught up with the team about the plan for the day, it's time to prep for the day ahead. Making sure we are ready helps us during service. If we have events coming up in the week we would also prep for those. I'll also write up the daily specials for the blackboard.
How I write the specials
Sometimes I see an ingredient that I just want to use, and I can think of a dish quite quickly. Other times…
I'll have to look through my cook books for inspiration
I'll phone up our suppliers to see what they have and go from there
I'll see a dish on Great British Menu I like a certain element of and work it into a dish
12pm – First thing – Music on! We always have the music blaring, we usually listen to Radio X or a Rock playlist, if we're feeling a bit fruity the 80's tunes come on. I don't like a quiet kitchen!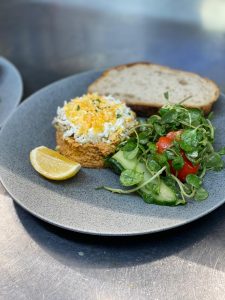 Once service starts to slow down I do my paperwork and catch up on any calls or emails. Today I've been working on next week's rota, checking our figures and training some of the team on our online ordering systems. As part of my role as an Ultimate at Peach I also support with recruitment, development of Peach dishes and help with training.
6pm – Once the tickets for dinner start coming in it's time to get back in the kitchen. As well as our music, the banter in the team is what makes a shift fun. It's great to have a good team around you that you can have a laugh with.
10pm – After cleaning the kitchen I'll head home for something to eat. I like to unwind by having a few beers and chilling in front of the TV.
My top tips for a day in the kitchen
A good music playlist
Keep communicating 
Lots of caffeine
A strong team
To find out about the exciting career opportunities at Peach Pubs, click here.